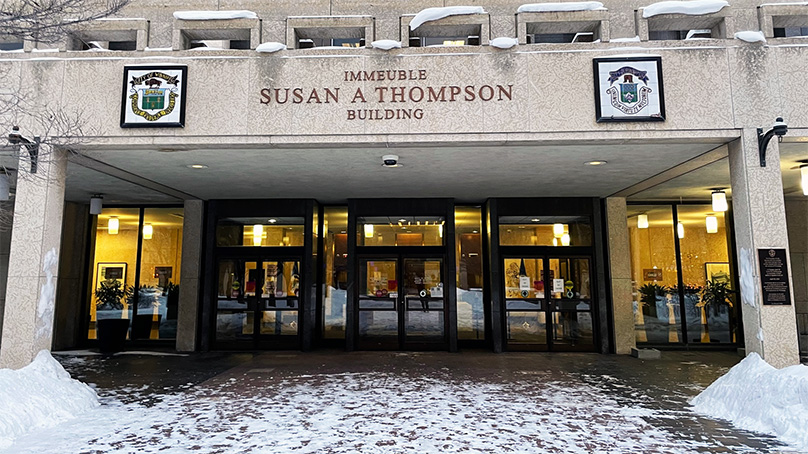 From pins to flags and the signs greeting you at City Hall, our crest has been on prominent display for 50 years. Adopted by City Council on January 24, 1973, the crest took effect just over a year after the amalgamation of Winnipeg.
After much deliberation and a public contest, the crest was recommended by the former Board of Commissioners. It features the Fort Garry Gate, a reference to our City's fur trade history, and stars symbolizing the thirteen municipal governments that were unified to create the new City of Winnipeg.
"Carefully chosen, these symbols represent our shared histories, aspirations, as well as the coming together of people, places, and communities," said Sarah Ramsden, Senior Archivist.
The blue background depicts Winnipeg's clear blue skies. Below the sky, a prairie crocus on a plain green field represents our location on the prairies. Our motto "UNUM CUM VIRTUTE MULTORUM", Latin for "One with the strength of many", is also featured prominently.
The two thoughts that lie behind the motto are that Winnipeg is a multicultural city formed of diverse peoples and it is one city formed from many cities.
It was granted Armorial Bearings (coat of arms) through a letter patent from the College of Arms in England in 1979. At the time, Winnipeg was the only Canadian city to have its crest registered with the College.
Winnipeg's previous crest was also registered with the College but it looked much different.
Used from 1874 until 1973, the original crest had the motto "Commerce, prudence, industry" and featured a bison, locomotive, and sheaves of wheat.
"The bison brings to mind prairie lands and the Indigenous economies and cultures connected with it," said Ramsden. "The locomotive represented the coming of the railroad to Winnipeg, and the wheat symbolized agriculture and the city's position as the Gateway to the Golden West.
When the original crest was designed it was largely aspirational because Winnipeg actually had no railroads and the wheat fields were still taking root.
Ramsden said before that crest was adopted on June 1, 1874, the City Clerk's office used a blank purple seal to certify official documents such as the City's first by-laws. The City's crest can only be used by elected officials and their offices.
To mark the anniversary of the current crest, our Archives staff have put together a display telling the stories of the two official crests. It features photos and various souvenir items selected from the City of Winnipeg Archives Museum Collection.
It is currently on display in the Mayor's foyer on the second floor of the City Hall Council Building until the end of April.
Celebrating City employees Other City information