Station Doggie Dates aim to increase dog adoptions and increase morale of first responders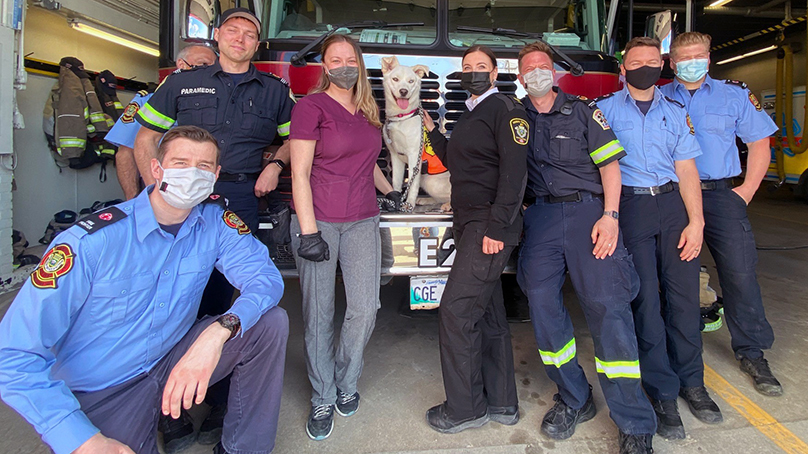 To help to increase the morale of first responders and help adoptable dogs to find their fur-ever homes faster, the Winnipeg Fire Paramedic Service (WFPS) and the Winnipeg Animal Services Agency have teamed up to create a paw-some new program.
Station Doggie Dates is an extension of Animal Services' wildly popular Doggie Dates. It gives first responder crews the opportunity to host an adoptable dog in their Fire Paramedic station over the course of a shift. Members will socialize with and care for the dogs, kenneling them anytime they leave the hall for an emergency response.
"We know that first responders experience high rates or depression, PTSD, burnout, anxiety, as well as other mental health issues and we also know that studies have proven that interacting with animals after a difficult day can improve coping and recovery while enhancing morale." said Christian Schmidt, Chief of the WFPS.
"Our department has introduced a number of new mental health resources and supports and we are happy to add the Station Doggie Dates to that list."
The department ran two trial doggie dates at Station 9 over the past few weeks before rolling it out fully, hosting rambunctious Cookie and then Murphy, an older pooch who demands belly rubs. Chief Schmidt said that afterwards, multiple members shared with him how beneficial the program was for morale and how it already helped members after a tough call.
"This is a fantastic partnership and what we believe to be the first of it's kind in Canada," said Leland Gordon, General Manager of the Winnipeg Animal Services Agency.
"The first responders are there for us when we need them on our worst days so it's great knowing that our adoptable dogs will be able to bring them some joy on difficult days."
Over the last year the WFPS has introduced several new resources for members suffering mental health issues, adding to those that were already available through their benefits program.
Its Behavioural Health Unit launched in December 2021 with the hiring of a Behavioural Health Nurse and a Clinical Psychologist. The unit helps to provide timely and targeted mental health supports to members. As well, an enhancement to its Peer Support Team program recently launched, with the addition of the PeerConnect App. The app connects staff to peer support, mental health resources, and information from WFPS whenever required.
Animals and insects Celebrating City employees Emergency and safety