Last day to apply is Friday, November 25, 2022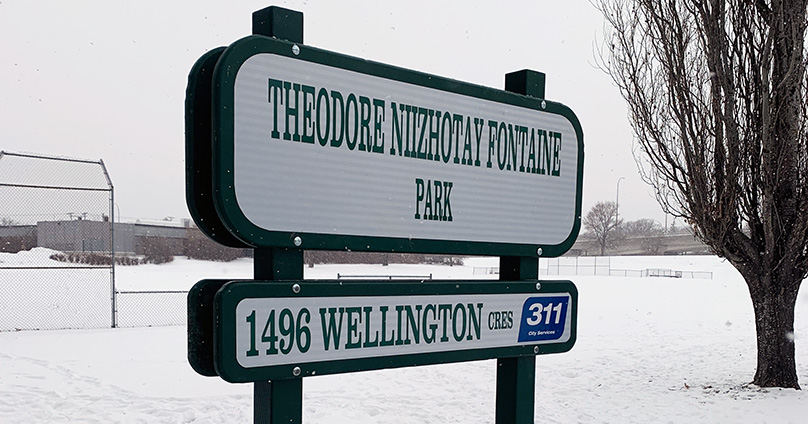 The deadline is fast approaching you to apply for the Welcoming Winnipeg Committee of Community Members.
The committee reviews Welcoming Winnipeg requests and provides recommendations for consideration by City Council, as well as provide us input and advice on creating new, adding to, or removing/renaming historical markers and place names, as well as hosts delegations and community presentations.
The most recent request to be approved by the committee was the renaming of Theodore Niizhotay Fontaine Park at the former Wellington Park, which formally took place earlier this month. In addition to approving the renaming request, the committee also recommended a territorial acknowledgment to accompany the park signage and a new marker added to give greater context to Fontaine's background and contributions.
Fontaine was a Chief and Sagkeeng Anicinabe First Nation knowledge keeper, Elder, author, educator, and public speaker who dedicated his final years to preserving the history of the Assiniboia Indian Residential School and in engaging the River Heights community with its presence in their neighbourhood. He passed away in 2021.
The Welcoming Winnipeg Committee of Community Members is guided by values and principles established during a public consultation process in 2019. These include honouring the original peoples of this land and their descendants, that the Treaty Relationship be upheld, that Indigenous Rights are respected, and that traditional Indigenous laws, ceremonies and ways of being are recognized and affirmed.
The Welcoming Winnipeg: Reconciling our History Policy guides us in making decisions regarding requests to create new, add to or remove/rename historical markers and place names, and resolve the absence of Indigenous perspectives, experiences, and contributions in the stories remembered and commemorated.
So far, the committee has made recommendations on nine requests.
If you are interested in applying for this unique opportunity, one of the qualifications is having done professional or community work with interest and expertise in Winnipeg's history and the ongoing impacts and legacy of colonization, locally and internationally. It is also valuable if you have skills, education, and experience in specific areas such as research, project evaluation, and policy analysis that would allow you to contribute to committee recommendations and influence change.
A full list of qualifications can be found on the application and the deadline to apply is November 25.
If you would like to be involved with the committee's work but are unable to serve as a member, you're encouraged to provide your thoughts on Welcoming Winnipeg requests. Feedback on new requests is accepted for a two-week window and is considered by committee members as part of their recommendation-making process.
Other City information Parks, trees and the environment