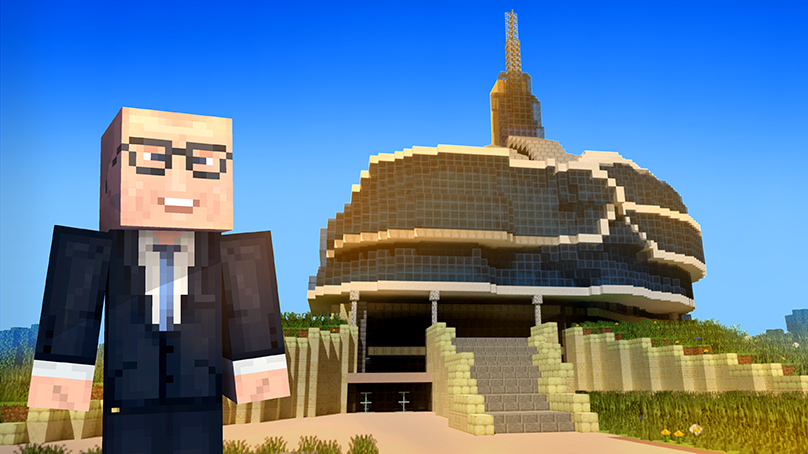 Winnipeg is joining the world of Minecraft. Local students will have chance to use the popular video game to re-imagine our Downtown through Level Up: Winnipeg.
When playing the game, students explore the Downtown area and visit block versions of recognizable landmarks, such as Old Market Square and Circle of Life Thunderbird House. They'll learn about the area's past, present, and future with the help of tour guides, including Mayor Gillingham and Murray Peterson, a Heritage Officer with us.
"This is a great way for students to explore Winnipeg's history and learn a bit more about what is happening downtown today," said Karin Kliewer, a Downtown Planner with us.
It's a chance for us to connect with students and engage them about the future of Downtown.
Using what they learned, students then build something in the Minecraft Winnipeg world, and upload a short video explaining their projects. Divisions will submit select videos that represent outstanding ideas that move our city forward, for us to consider.
We are currently working on CentrePlan 2050, a long-term plan to guide investment and development downtown.
"Youth have a unique perspective and we're listening to these ideas as part of the CentrePlan 2050 process," said Kliewer.
Downtown is worth our time and energy, and these ideas matter.
We've partnered with all of Winnipeg's six school divisions (Louis Riel , Pembina Trails, River East Transcona, Seven Oaks, St. James-Assiniboia, Winnipeg), as well as the Division scolaire franco-manitobaine, Lord Selkirk School Division, Balmoral Hall, Microsoft Canada, and Minecraft: Education Edition to launch Level Up: Winnipeg.
Students from all grade levels are encouraged to play until May 26, 2023. If your child's school isn't participating, they can still take part. Download Minecraft Education on your device and explore the world on your own. You will need to login using your child's school login credentials. You can also access the world in New & Featured worlds section.
Other City information