Approximately 400 pieces of heavy equipment being utilized for the city-wide snow clearing operation
Winnipeg, MB - The City of Winnipeg continues to recommend that residents continue to limit travel to essential trips only. Sunday's weather event brought approximately 23 cm of snow along with high winds into Boxing Day. Majority of snow fell in an eight-hour window. High winds produced major drifting. Residential streets continue to have significant accumulations.
A residential plow is planned and a start time will be announced officially in the coming days. The City is focusing on completing P1 (regional) and P2 (collector/bus routes) to ensure essential services are available.
Parking Bans
Declared Snow Route Parking Ban is still in effect and will continue until Wednesday, December 28, 2016 at 7 a.m. The Declared Parking Ban prohibits parking on snow routes between midnight and 7 a.m. (For more information, see below.)
Truck Plowing and Grader Plowing
A truck plow began Sunday night and continued through Monday night which kept our P1 and P2 in drivable condition during the snow event.
Grader plow operations on the P1 and P2 networks began Monday, December 26 at 7 p.m. This operation is continuing. It is estimated that it will take an additional 48 hours to fully clear the P1 and P2 networks.
Sidewalks
Sidewalk plowing began on Monday, December 26, at 7 p.m., on the P1 network and adjacent Active Transportation Pathways followed by P2 and residential street sidewalks. This operation is ongoing.
Back Lanes
Back lane plowing started this morning (Tuesday) at 7 a.m. and will continue for the next four days. Loaders are starting in areas on the current garbage day to minimize collection delays. Please ensure garbage and recycling carts are placed back enough from the center of lane to assist in keeping back lane plowing as efficient as possible. Tips for placing your carts during the winter are available here.
Load & Haul Operations
On some of our P1 roadways there is no longer any snow storage capacity on the boulevard. In these cases we have temporarily plowed the snow over to the curb lane and will trailer this snow away primarily during the night.
The City is requesting the public's assistance in these areas by avoiding parking or stopping in the traffic lanes adjacent to these locations to help maintain traffic flow and safety.
Sanding
P1 and P2 streets are being sanded behind the plowing operations. Motorists are reminded to drive to conditions. Sanding will continue to improve driving conditions where required.
Avoid a ticket and tow
A Declared Snow Route Parking Ban is in effect. Vehicles parked in violation of the Declared Snow Route Parking Ban may receive a $100 ticket ($50 if paid early), and may be towed to the towing company's compound. The Declared Snow Route Parking Ban will be in place until snow clearing is completed and the public will be notified when the ban is lifted. At such time, the Annual Snow Route Parking Ban will continue to be in effect from 2:00 a.m. to 7:00 a.m.
Snow routes are clearly marked with signs like these: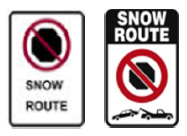 Citizens are encouraged to check their streets for snow route signs, or if unsure, to call 311 or use the online Address Lookup Tool.
To find out if a Declared Snow Route Parking Ban is in place, check knowyourzone.winnipeg.ca or contact 311, available 24 hours a day, seven days a week by phone at 311, or by email at 311@winnipeg.ca.
More information about parking bans is available at knowyourzone.winnipeg.ca
Download the official City of Winnipeg Know Your Zone mobile app
The City of Winnipeg's "Know Your Zone" app is now available for free download at the Apple App Store and Google Play App Store. For more information about the app, please visit knowyourzone.winnipeg.ca/app
Sign-up for winter parking ban notifications
The City also offers free email and Twitter notifications which advise subscribers when additional parking bans go into effect. To sign up for notifications visit knowyourzone.winnipeg.ca or contact 311, open 24 hours every day, by phone at 311 or by email at 311@winnipeg.ca.
Think safety this winter - Stay Back, Stay Safe
Motorists are reminded to drive to winter road conditions at all times and to use extreme caution when driving near any plowing or sanding equipment.